Low Pressure Differential Pressure Gauge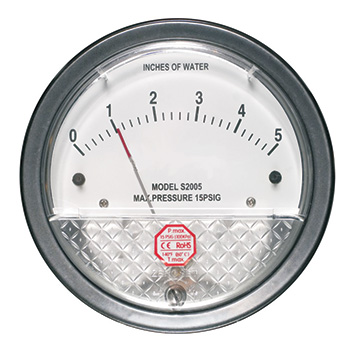 Send Enquiry
The Series E2000 is a low cost, diaphragm operated, differential pressure gauge. The S2000 can be used in applications for measuring positive, negative, or differential pressure with an accuracy of 2%. Standard applications include monitoring filter status, duct static pressure, room pressure, fan or blower pressure, paint booths, dust collectors, and cabinet purging along with many others.
Features
Mounts n Industry Standard Holes
Accuracy2%
Die Cast Aluminum Housing
Application
Filter Status
Duct Static Pressure
Clean Room Pressure
Building Pressure
Fan ard Bower Ressure
Paint Booths
Dust Collectors
Glove Box Pressure
Bubbler Systems
Cabinet Purging
Specifications
Pressure Limits : -20" Hg to 15 PSI (-0.677 bar to 1.034 bar)
Media compatibility : Air and compatible gasses
Accuracy : ±2% full scale (±3% on -0 and ±4% on -00) throughout range at (21 °C)
Temperature Ranges : 20 to 140°F (-7 to 60°C)
Housing Material: Die cast aluminum case and bezel, with acrylic cover
Process Connection : 1/8" female NPT duplicate high and low pressure taps -one pair side and one pair back.
Weight: 1 lb 2 oz (510 g), MP & HP 2 lb 2 oz (963 g)
Accessories : Two 1/8" NPT barbed fittings, two 1/8" NPT Plugs, and three mounting tabs and screws.
Download Brochure