Homogenizer Pressure Gauge
Diaphragm type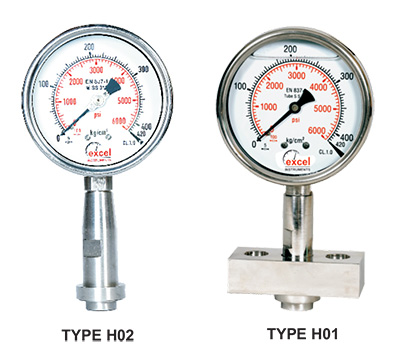 Send Enquiry
Special Features
C€ Approved electrical contacts
Laser welded diaphragm
Filled version facilitate usage in vibration Zones to avoid damages to its mechanism.
Suitable for homogenizer machines.
Electrical contact options available.
Standard followed in general EN 837-3.
Application
These gauges are being used in applications where Hygiene is of prime importance like dairy
Food
Ice cream
Beverages
Pharmaceutical industries
Sterilization.
Specifications
Standard Version : 100 mm
Accuracy
±1.6% of F.S.
Ambient temperature
- 25°C to + 65°C
Process temperature
Max. 120°C
Operating pressure range
75% of Scale Value
Case & Bezel
AISI 304 SS (Bayonet Type)
Bourdon
AISI 316LSS
Socket
AISI 316LSS
Movement
AISI 304 SS
Diaphragm
AISI 316LSS
Body
AISI 316 SS
Joints
Tig Argon Arc Welding
Protection
IP 68
Dial
Aluminum, black graduation on white background
Pointer
Aluminum, black coloured micrometer zero adjustable
Window
Plexi Glass
Blow off Disc
Neoprene
Gasket & Filling plug
Neoprene
Sealing liquid
Glycerin
Dampening Liquid
Glycerin 99.7%
Electrical contacts - dry version
| | |
| --- | --- |
| Accuracy | ±2.5% of F.S. |
| Ambient Temperature | Maximum 65°C |
| Process Temperature | Maximum 65°C |
| Window | Polycarbonate Dome |
| Dampening Liquids | Dielectric Oil (Optional) |
| Electric Contacts* | Refer How to Order |
| Other Features | Refer Specification of Standard Version |
* Please specify contact set points while ordering.
Temperature effect:
The variation of indication caused by effects of temperature is to be calculated by below formula; which is to be added in the specified accuracy while measurementFormula : ±0.08 x (t2 -11) % of F. S. where t1 = reference temperature (+20°C) and t2 = ambient temperature in °C.
Download Brochure